The Center of Excellence (COE) for Veteran Entrepreneurship will work to unite veteran-owned businesses (VOBs), researchers, small business program managers, policymakers, resources, and private and public companies. We bring them together in an effort to make transitioning servicemembers, veterans, and their families successful business owners. Most of all, the Center intends to be a national hub of veteran business ownership by leveraging the resources and established networks of Syracuse University, the Institute for Veterans and Military Families (IVMF), and their partners. This requires bringing together the relevant stakeholders and their networks to create a supportive ecosystem that focuses on veteran and military spouse-owned small business.
VISION
Our vision is to be the nation's leading center of research on veteran entrepreneurship. We therefore want to be a center of trusted thought leadership and innovative programming to advance opportunities for transitioning servicemembers, veterans, and their families to successfully pursue business ownership in America.
MISSION
The mission of the Center of Excellence for Veteran Entrepreneurship is to advance entrepreneurial opportunities for transitioning servicemembers, veterans, and their families. Therefore the goal is to create, collect, organize, and share knowledge, resources, and networks about this economic opportunity. This is accomplished through the development and delivery of innovative programs and educational resources. It also requires the pursuit of timely and relevant research and policy analysis. It is ultimately our mission to encourage veteran-connected ecosystems across the United States.
Located on the campus of Syracuse University, the IVMF has quickly established itself as the first interdisciplinary national institute in higher education focused on the social, economic, education and policy issues impacting veterans and their families post-service.
A coalition of industry leaders, committed to providing innovative solutions and thought leadership to grow and support veteran owned businesses in communities throughout the nation.  First Data has committed to providing resources to launch the coalition with the Institute for Veterans and Military Families.
With the help of our founding partner, First Data, the Center of Excellence launched in the spring of 2016. The Center then began to conduct and release research and information on veteran entrepreneurship in the US. Now the Center plans to soon lead the way in promoting small business ownership amongst veterans.
The infographic below illustrates some important statistics about veteran entrepreneurship in America as well as the top ten states that see the highest amount of veteran entrepreneurs.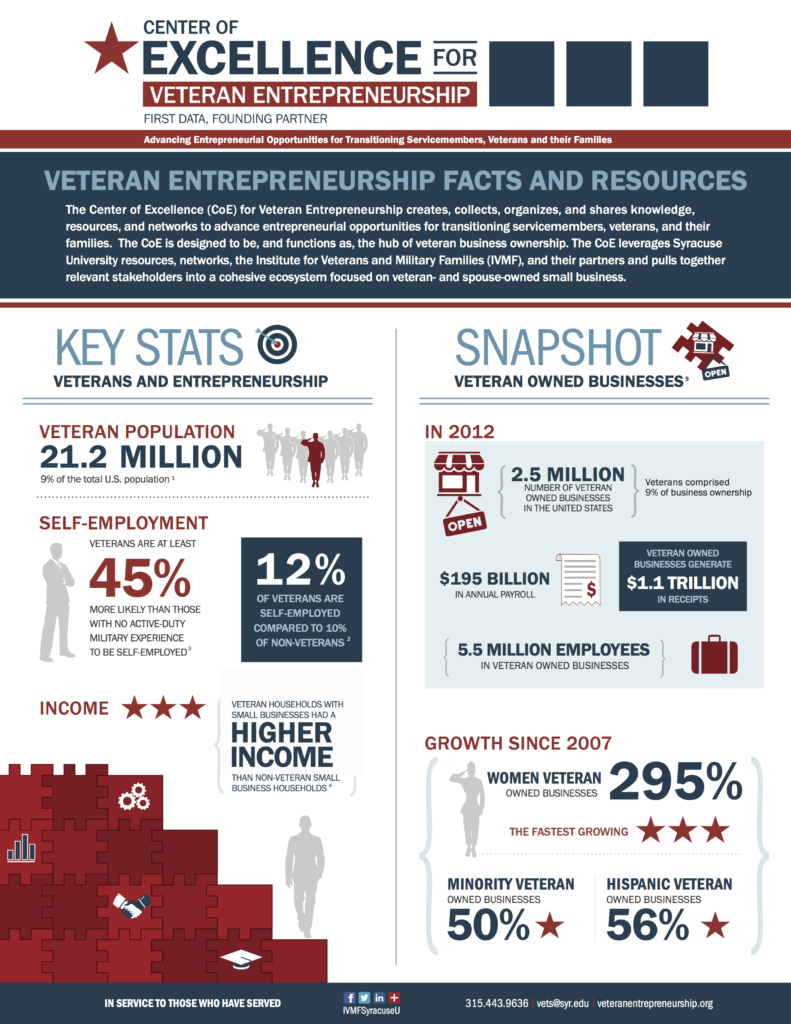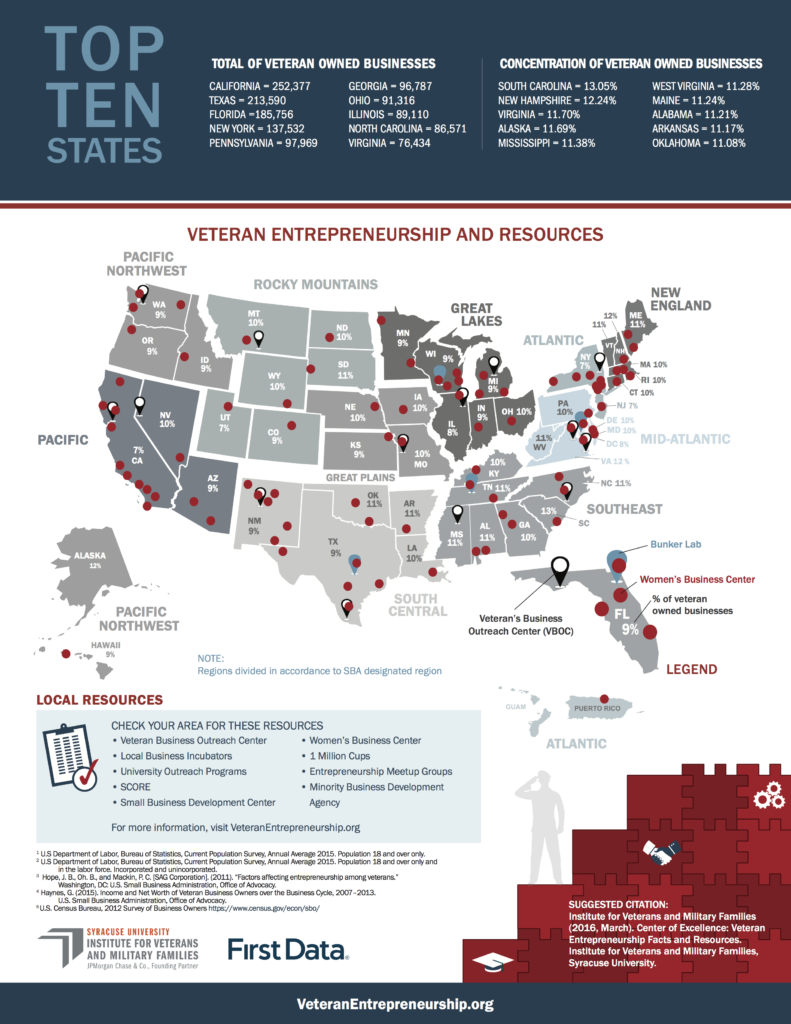 We have an active directory of over 6,000 resources to help veterans or non-veterans become a successful entrepreneur. You can browse our directory to find brick and mortar resources near you. You can also locate national resources here.